Dental care is an essential part of a health care routine. Brushing with standard toothpaste doesn't always solve all of the problems you might have with your mouth. When I was offered the chance to try the OraMd Oral Hygiene Program, I couldn't say no, especially after visiting the website www.oramd.com, where I learned that OraMD is great for swollen gums, red gums, bleeding gums and bad breath.

I don't have the worst breath in the world by any means, but I do worry about having smelly breath. I am a coffee drinker. I constantly have coffee breath. I couldn't wait to try OraMd when it came. This product is different because it is liquid and antibacterial. I liked how clean my teeth felt after brushing with it. I liked that OraMD is not only toothpaste, but is also a mouthwash when added to water, and can be used in place of mints and gum. When combined with flossing, OraMD is a complete oral hygiene program.
I liked that I didn't have to use multiple products when I used OraMD. My bathroom is teeny tiny and I loved the space saving benefit. I liked that the product works, it really made my mouth feel clean after brushing, my breath was better, despite the coffee habit. I learned that this is because bacteria were the cause. I liked the flavor, but it is very strong and intense at first! I liked that OraMD is fluoride free and contains all natural ingredients such as peppermint, spearmint and almond oils.
I don't know that I would switch to OraMD exclusively, as it is kind of expensive at around $23 for a single bottle, which contains 400 drops. To learn more about how OraMD can help battle gum disease, please visit http://www.oramd.com/gum-disease-treatment.htm.
About the Product: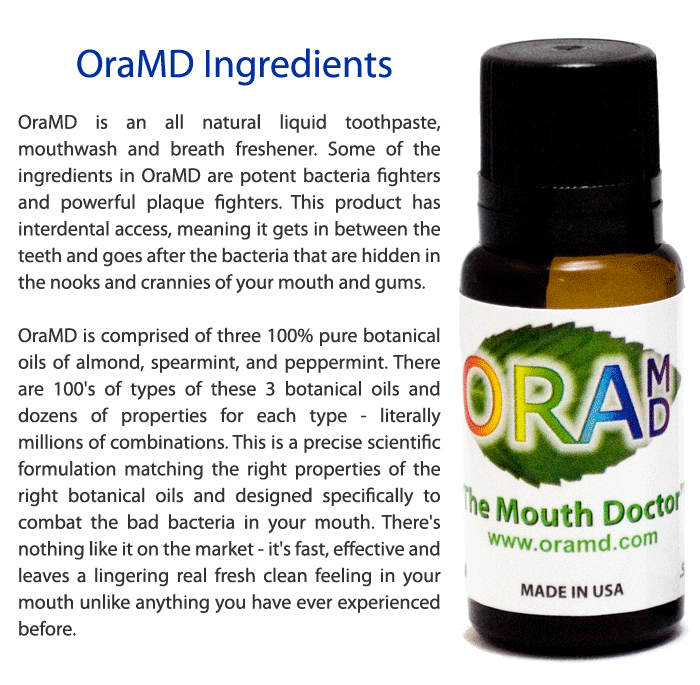 BUY IT:

OraMD Original Single Bottle is $22.97, and OraMD Extra Strength Single Bottle is $39.97. There are some promotions for multiple purchases.
WIN IT:

Three (3) winners will receive a single bottle of OraMD Original. (Value: $22.97 USD)
** I'm not responsible for shipping/sending the prize. I'm not affiliated with this company.