Ever since I saw my grandmother's blue plastic toilet seat covered in a frolicking dolphin design as a four year old child, I have harboured quite an interest in-out-of the-ordinary toilet seats. No, I am not a waste loving weirdo; rather, I have never really understood why anybody would not want to jazz up their porcelain throne with a seat more attractive than the "bog" standard (groan!) white plastic or wooden varieties.
According to
CBBC
, the average person spends a total of 3 years of their life sat on the toilet and therefore in my opinion, everyone should try and make their toilet look as inviting as possible!
The following list details the five best brightly coloured toilet seats that I have ever laid my eyes (but not my buttocks) on:
Unicorn and Rainbow Toilet Seat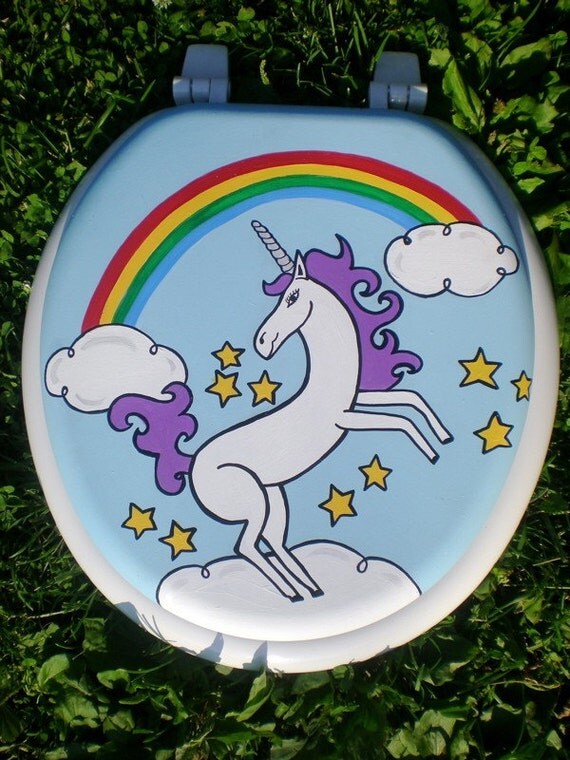 This whimsical little number was hand painted by "omgurl" on custom and handmade wares website Etsy. It's amazing how a simple rainbow can transform executing your "number twos" into an act that is quite magical!
If like me you simply NEED this toilet seat in your life, you will disappointed to know that the one off design already found a home back in 2009. Booo! (Or should that be "Poooo!"?)
Speedy Mouse Toilet Seat
This bog seat is a little "cheesy" but who can resist the quirkiness of the odd, cheese hole shaped lid? This seat is also a hand painted affair and matching toilet roll and brush holders are available. What better whey to drop your curds? (I mean...turds. Obviously.)
This toilet seat can be purchased for £35.44 from bathroom-trends.co.uk
Jammin' Johns Natural Guitarlet Toilet Seat
The idea "behind" this little beauty occurred when its designer made a guitar out of a toilet seat and several decades later realised that he could "flip the lid" on the process! John makes a number of different guitar shaped toilet seats (in both acoustic and electric styles) in addition to a couple of piano versions. John's business motto of "music to your rear" could not be more accurate!
Each seat retails at around $200 (approximately £130) and are available from jamminjohns.com
Reefer Madness Toilet Seat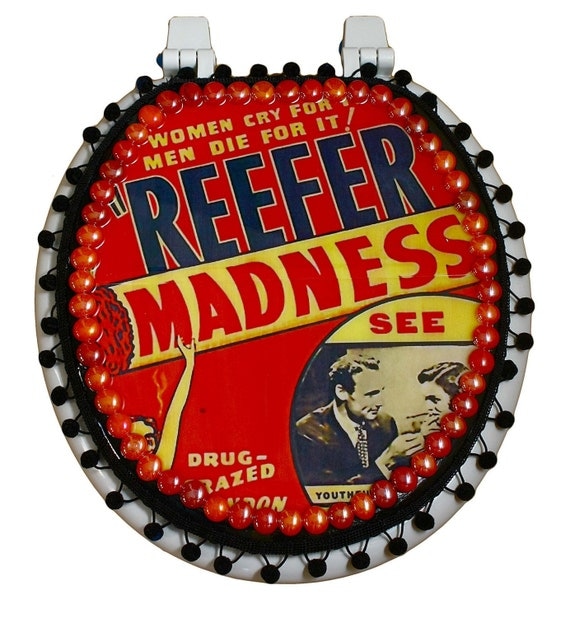 This toilet seat comprises the poster for the retro classic film Reefer Madness – a propaganda film released in 1936 that dealt with the topic of smoking marijuana.
This seat is perfect for anyone who finds themselves with a dodgy tummy as a result of getting killer munchies! For everyone else, the bright red and yellow colours should appeal.
This toilet seat is available from the Etsy store ran by "toilux" fro $79 (£50 approx).
Alice in Wonderland Toilet Seat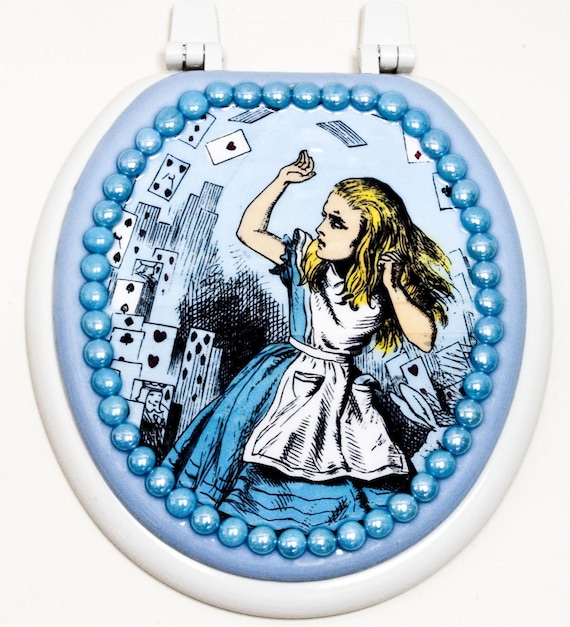 This Alice in Wonderland: Through the Looking Glass seat is not only undeniably cute but I also find it quite hilarious. Why? Because should you install this seat, every time you approach your crapper you are going to see Alice's scared expression and know that she is about to face something far more traumatic than a Jabberwocky!
This seat is also from the "toilux" Etsy store and retails for $79 (around £50).
The author of this guest post – Katherine Whitwine - recently took up the hobby of hand painting toilet seats in her spare time. She also has plans to eventually transform a couple of bath screens for members of her family.